Desmond Ayaabe Wins 2023 TPG Tour 1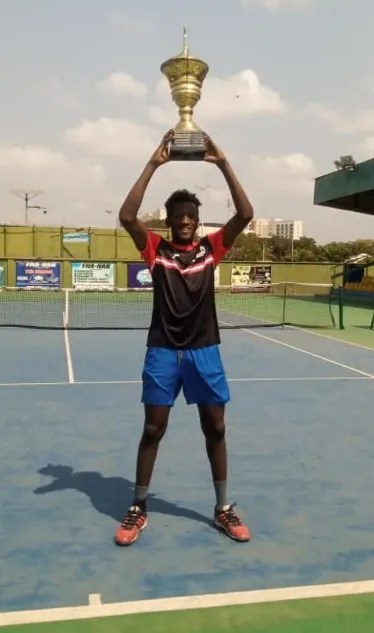 Desmond Ayaaba, today, 27th January 2023 humbly, yet convincingly, beat the National number 2 ranked Johnson Acquah to become winner of the Tennis Professionals of Ghana (TPG) Tour 1 under the auspices of the Ghana Tennis Federation (GTF). The journey to this point was long, precipitous and meandering in so many respects.
Before entering the National Senior's and Professionals Championship, the boy from Sakasaka, a slum in Tema, defied the odds to become the number one ranked National Junior tennis player. Before age 12, no one would give him a chance. Surviving some of the harshest things even adults cannot face, he pushed his way to the top. Even at that tender age, he showed signs of a fighter and survivor. He would drop out of school because he didn't have enough money to use at school. Further, his survival instincts translated into impatience with teachers, his mates which led him into trouble.
Yet, his truancy was never extended to the tennis court. Rather, it was a refuge. He would come to the tennis court nearest to his home at 3.00am to ensure that he got selected as a ballboy for the morning. That had become not only an escape but a source of revenue. The meager amounts he made from catching balls reached as far as his family for daily survival. Ayaaba would soon climb into the breadwinner class unintended. In his mind, tennis had promise for his life; though he was not sure how.
One day when he heard of a Junior Championship in Accra, he saved up some money and fared himself from Tema to partake in the tournament. Lo and behold, he won that tournament. That was the spark that brought attention to his talent and prowess in the sport.
Desmond focused on tennis as he tended to believe it will bring him laurels. Though many encouraged and still encourage him to pay attention to education alongside tennis, he defiantly put more attention on his tennis prowess until he sprouted and stood neck to neck with his colleagues.
He's played tournaments in West Africa and other parts of Africa. Desmond has won some gold and silver medals in both singles and doubles matches during these tours as a junior player. His achievements led to an invitation by the Emilio Sanchez Academy, Florida USA where he participated in the Teen World Open. He turned heads towards his potential in the tourney by beating most of the American opponents. Desmond strode into the semi-finals of the Teen World Open, where he was only stopped by the eventual winner, a Czech player.
As we celebrate the rise of a new star on the block, it is worth paying homage to his many supporters – most of whom are behind the scenes. The tennis fraternity in Tema and many tennis aficionados in Accra who resource him financially, morally, and spiritually. These personalities, entities, especially the tennis clubs play a huge role in the build up of dedicated and/or talented ballboys such as Ayaaba; a correlation that needs an extensive coverage on its own.
Credits to #Ismaila Lamptey and #BabooSports, #McDan, #IsaacNartey, #GhanaNationalGas, #GhanaTennisFederation(GTF), #TorTennisClub, #TemaTennisClub, #LawyerAidooh, #MichaelAdade, #Olewu (Kwame Badu), #CoachAlbertArthur, #CoachAryee, #AfiaBoadiwaaAgyeiAsaabre, #EdwardAbabio(Opoleh), #FrankSarpong…, etc, etc.
The list is inexhaustible, so apologies for any oversights.
God keep him going and bless all those supporting his cause.
©Kofi P. Baidoo Jnr
Tema
About Author