SAMUEL ANTWI OVERTAKES JOHNSON ACQUAH TO BECOME TOP SEED IN GHANA TENNIS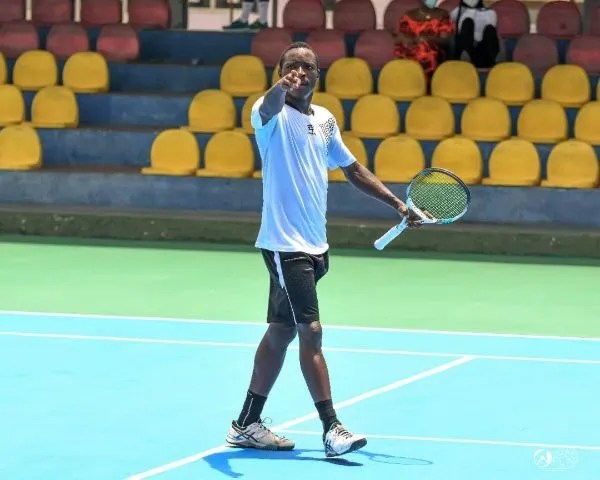 The Ghana Tennis Federation (GTF) has announced the official TPG rankings for March 2022
Samuel Osei Agbesi  Antwi occupies top spot in the Tennis Professionals Ghana (TPG) 2022 rankings for the first time in his career, unseating Johnson Acquah who slipped to second, after  two successful years at the summit.
Antwi, 21, accumulated a total of 2,390 points, ahead of second seed Johnson Acquah (1,818) and Bernard Ashitey Armah- 1,459. Also making the top 10 chart were big names like, Felix Hammond, Daniel Anum Quartey, Reginald Okantey, Andrews Appiah, Japhet Bagerbaseh, Benjamin Palm and Benjamin Fumi respectively.
Samuel has been in incredible form in the last 15 months, pulling off a string of impressive performances in the post Covid-19 era, which has seen him leapfrog from top 16, to sixth in the rankings, before seizing top spot last month.
The Atomic Tennis club man, has been by far the most consistent tennis player in the last two years, sweeping 11 trophies in the last thirteen tournaments he has featured, since 2021. The KNUST student athlete has found good fortune in both invitational tournaments and national ranking tournaments, and holds the record for the most national ranking titles, eight (8)
According to the modalities rolled out by the Ghana Tennis Federation, registered professional tennis players are ranked based on a point system. Within the course of the tennis calendar year, players strive to amass maximum points in the national ranking tournaments (tours), the official tournaments sanctioned by the federation to award points to Local tennis players.
The winners of each tournament accumulate a total of 210 points, whereas the runner up makes 150 points. Players who qualify for the one-eight stage and Semi-finals, are allocated 60 and 80 points respectively, whereas those booted out in the second (2nd) round and First (1st) round are assigned 30 and 10points.
Winners of every tournament are mandated to defend their title in the subsequent tour or risk a penalty of 20% deduction of the total of points they accumulate on the tours.  Aside that, breaches in the code of ethics could also force the hand of officials to deduct points.
Second seed Johnson Acquah was a victim of the very last regulation after he defaulted during the semi-final game against Benjamin Palm in Tour 2 of the 2022 national ranking championship. Impliedly, the player forfeited all points he gathered up until the semi-finals and saw a twenty percent deduction in all points he had accumulated in the calendar year.
The official ranking system for tennis in Ghana was previously called the Ghana Tennis federation (GTF) rankings before it saw a change in name to the TPG (Tennis Professionals Ghana) rankings.
 Written by: Godfred Damte-Larbi
Tenolf Media
About Author