COVID-19 GUIDANCE FOR CLUBS, PLAYERS AND COACHES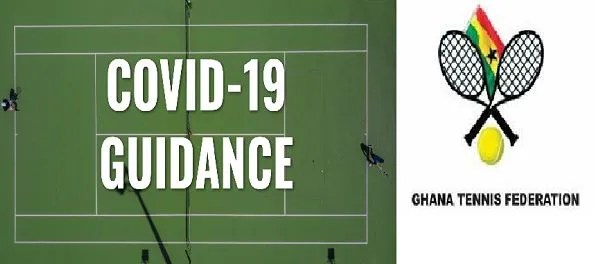 Following the 22nd update of the President of the Republic of Ghana, Nana Addo Dankwa AkuffoAddo, on Sunday 17th January 2021 the Ghana Tennis Federation (GTF) has summarily gathered
the following:
That, Ghana has recorded the new strain of COVID-19
 That, COVID-19 treatment centers have gone from zero patients to now being full because
of the upsurge in infections.
That, the latest trend of COVID-19 cases shows more youthful people with no underlying
ailments are tested positive and dying.
That, if the trend of rising cases continues the President will be forced to impose a partial
lockdown
That, schools will open on Monday 18th January 2021, but all stakeholders must adhere
to preventive measures.
The police service has been ordered to crackdown on those who do not observe COVID19 protocols.
In view of the above development and in order to keep the tennis community safe, GTF is putting
forward the following measures to be observed by all tennis stakeholders across the country.
GUIDANCE FOR CLUBS
 All Clubs are to put in the right measures to ensure the compliance of the protocols.
 Clubs are to put relevant clear notices at vantage points concerning COVID-19
protocols especially at club entry points, court entrances/exits, sitting areas and
washrooms.
 Entry to all clubs should be restricted to club members as much as possible.
 All clubs shall provide infrared thermometers at entrances of clubs or courts
Gates to the courts should be always opened and hooked in place if possible, to avoid
opening and closing to prevent being touched every now and then.
There should be provision of running water, either fixed or by placing Veronica
buckets, soap and tissue at entrances to the club, courts and sitting areas.
All surfaces exposed to touch should be cleaned with disinfectant periodically as in
times in a day.
Only players should be allowed on the playing courts.
Clubs should keep a register of all persons to the club. Information in the register
should include date, time in and out among others as may be approved by Club
COVID-19 Committees.
Clubs should appoint an enforcer and empower the individual to be strict on
adherence by members.
GUIDANCE FOR PLAYERS
All players or members who enter a club must be in face masks except when playing,
no mask, no entry.
The practice of handwashing should be strictly followed. Hands must be washed
before entering and when coming out of the court.
Players should not shake hands after play as is customary in tennis.
Balls used by one group should not be used by another group. Ideally, each player
should use one set of marked (personal identified) balls
Players must avoid sharing equipment.
Players must observe social distancing during breaks in play
Avoid touching your face during play. If you must do so, sanitize your hands.
There should be no spitting, washing of face and personal equipment on the court
Players should carry their own water even when purchased at the club. It should not
be shared.
GUIDANCE FOR WHEELCHAIR TENNIS PLAYERS
Wheelchair tennis will follow all the above protocols for club and players but will
observe additional practices
All wheelchairs are to be disinfected by players before and after play.
Wheelchair players are encouraged to wear gloves, especially to propel the
wheelchairs. These gloves must also be disinfected before and after play or disposed
of entirely
GUIDANCE FOR COACHES
Group coaching must be limited to a maximum of four players per court with
observation of social distancing except where players are from the same household.
The coach must still practice social distancing.
All coaching equipment must be disinfected before and after each training session
Training session balls as much as possible should be returned by racquet/foot
combination and hit to intended place. Players must avoid touching balls with their
hands.
Underage players can only be accompanied by one parent/guardian.
TRAINING MATCHES
All training matches are to be played under strict COVID-19 Protocols
Tournament Organizers are to ensure the provision of Personal Protective
Equipment.
GTF wishes to emphasize that, anyone's fight against the virus is everyone's fight and as such we
should all be sensitive to the feelings of one another in this difficult time and to offer the
necessary assistance to guarantee a healthy tennis community.
Isaac Aboagye Duah
President Ghana Tennis Federation
info@gtftennis.com
About Author